SASBA is a non-profit organization owned by its members, formed to conduct scratch bowling tournaments for bowlers 50 years old and older. SASBA holds tournaments in Texas, Oklahoma, Louisiana, Arkansas and Mississippi.  Learn more.
Annual Championship Top 2 from Cityview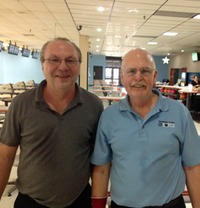 Latest Champion
Congrats to Ron Boroff for winning the SASBA Annual Championship October 25-26 at Cityview Lanes in Ft Worth, TX.  See results here.
Next Tournament
SASBA Mixed Foursome Tournament November 1-2 at Plano Super Bowl in Plano, TX. This tournament is full. 
Host Hotel
Holiday Inn Express, 700 East Central Parkway, Plano, TX.
Ph: 972-881-1881. SASBA Rate: $74.99. 
Brunswick Bowling Balls available to SASBA Members at each tournament:
Mastermind Intellect
Click here to see the specs website page
Brute
Click here to see the specs website page
Fortera Exile
Click here to see the specs website page
Melee Cross
Click here to see the specs website page