SASBA is a non-profit organization owned by its members, formed to conduct scratch bowling tournaments for bowlers 50 years old and older. SASBA holds tournaments in Texas, Oklahoma, Louisiana, Arkansas and Mississippi.  Learn more. 
__________________________________
Top Three from       Non-Champs at CityView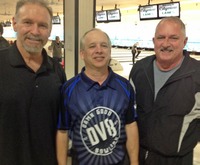 Latest Champion
Congrats to Bob Spaulding for winning the  SASBA Non-Champions Tournament Feb 28 - March 1, 2015 at Cityview Lanes in Ft Worth, TX. Results posted here. 
Next Tournament
SASBA 60/50/Guest Trio Tournament March 8-9, 2015 at All Star Lanes in Kenner, LA. Sign up on message board. 
Host Hotel
Host hotel information to be posted.
________________________________
Brunswick Balls available to members at each tournament:
Mastermind Scholar
Click here to see the specs website page
Gold Rhino Pro
Click here to see the specs website page
Fortera Intrigue
Click here to see the specs website page
Melee Jab
Click here to see the specs website page