SASBA is a non-profit organization owned by its members, formed to conduct scratch bowling tournaments for bowlers 50 years old and older. SASBA holds tournaments in Texas, Oklahoma, Louisiana, Arkansas and Mississippi.  Learn more.
Top 3 and proprietors at Emerald Bowl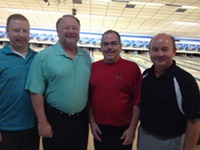 Latest Champion
Congrats to Robert Lawrence for winning his first SASBA title at the SASBA singles tournament at Emerald Bowl in Houston on April 6. See Results.
Next Tournament
SASBA member/member doubles at Cowtown Bowling Palace in Ft Worth, TX on April 19-20. Sign up on the message board.
Host Hotel

Best Western Plus, Lake Worth Inn and Suites, 3020 Boat Club Road, Lake Worth, TX 76135
Brunswick Bowling Balls available to SASBA Members at each tournament:
Mastermind Genius
Click here to see the specs website page
LT-48
Click here to see the specs website page